As an SAP gold partner, Balloon One is always keen to visit the annual SAP Business One Partner Day to learn more about the software and SAP's plans for the coming year.
This year was no exception and five members of staff joined 180 other partner representatives for an interesting day.
We learned about forthcoming plans for SAP Business One and other products from SAP.
The host for the day, Will Newton, Head of SAP Business One for the UK, Ireland, Nordics and Benelux, opened the session and told us that in the UK and Ireland, SAP Business One grew by 33% in 2015.
Then, Darren Roos, General Manager EMEA (Europe Middle East and Africa) North, explained that during 2015, more than 40% of SAP's revenue came from non-ERP sources. He proudly shared that, "SAP is no longer just an ERP business".
SAP as a company has seen triple digit growth for sales of cloud products. Roos justified how SAP can compete with other cloud providers, explaining that its German engineering, robustness and reliability of brand all give SAP a great advantage. This has brought more than 300,000 customers worldwide.
Roos said that SAP Business One helps small customers to compete with larger competitors. They can benefit from the same digital innovations that come with product as larger companies can.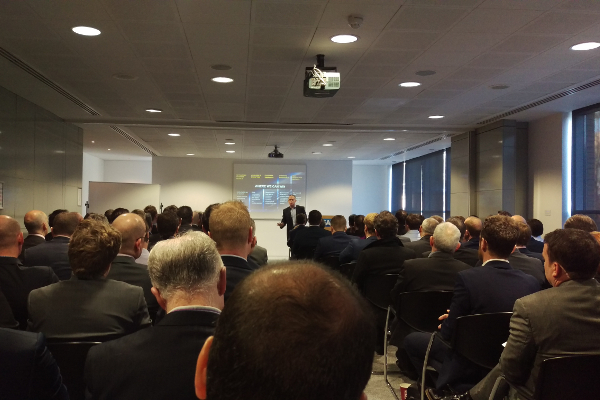 Fabrice Sala, Head of SAP Business One for EMEA, took the delegates through the key initiatives for SAP Business One for 2016. He discussed how business has changed dramatically in the past 25 years, with increased globalisation, big data, the cloud, the internet of things, social media, and mobile technology all affecting how business is done. In an age of digital disruption, "for SME businesses that want to fully integrate their end-to-end business and grow, SAP Business One is the only complete and integrated world-class ERP solution that's truly affordable".
Sala announced that SAP Business One now has more than 50,000 customers and 750,000 users. It is used in more than 150 countries and comes in 27 different languages.
Sala went on to describe SAP Business One as: scalable, mobile, and simpler to run the cloud. He noted that it has more industry software solution partners, has advanced analytics, social media integration and is an omni-channel product.
Charles Bennett, Cloud Channel Development Expert at SAP Global, talked about Digital Transformation Strategy. He declared that people are changing the rules of business, giving the example that the telephone took 35 years to reach 50 million users, but Angry Birds took just 35 days!
He described how digital levels the playing field between small and large companies. Small businesses are more agile, which gives them a competitive edge. They can make decisions quickly and leverage important digital technology.
Bennett also ran through some significant figures about the changing workforce. The workforce is getting younger and the influence of millennials is important:
67% of buyers prefer a digital journey
Buyers complete 70-90% of the journey before they approach a company
Millennials will run 45% of SMBs in 2016
85% use social networks for business
61% post on social monthly
59% are influenced at least once by social during a decision process.
In his presentation about the core SAP Business One software product, Andreas Wolfinger, Portfolio/Solution Manager at SAP AG, reiterated that there are now 50,000 worldwide customers of SAP Business One. He described SAP Business One as the company's business management solution for SMEs and said its main advantages are that it:
Is affordable and flexible to deploy;
Is fully future-proof;
Has a solid road map;
Is a global solution with a local focus; and
Enables enterprises to operate worldwide
Wolfinger also took the partners through the highlights of SAP Business One version 9.2.
Dan Love, Solution Expert and Customer Relations SAP Business One at SAP America, introduced a new product, SAP Anywhere, that is launching in the UK later this month.
SAP Anywhere can be integrated into SAP Business One and is all to do with the "front office" operations of a company. It handles customer acquisition, the selling process, billing the customer, and so on. It is mobile and cloud-based, and will be sold on a SaaS (software as a service) basis. It has already been launched in China and has achieved the status of being the software solution from SAP that has achieved 100 customers in the fastest time.
SAP Anywhere encompasses e-commerce and customer management tools, such as marketing, digital marketing and sales. It provides a webstore, has multi-channel capability, POS, order fulfilment, inventory, customer support and social media.
Love explained that SAP Anywhere is powerful, scalable, affordable and simple.
After lunch, there was a multitude of presentations covering many different topics, so the Balloon staff went their separate ways and attended the ones most relevant to them.
It was a very interesting and informative day – thank you to all at SAP.