In the past few months, Balloon One has taken on a number of new staff. The expansion means that we can enhance the support we give to our existing customers. We also want to ensure that we invest in our staff prior to taking on any additional clients.
The new employees have roles right across the company. Today, we introduce you to three of them.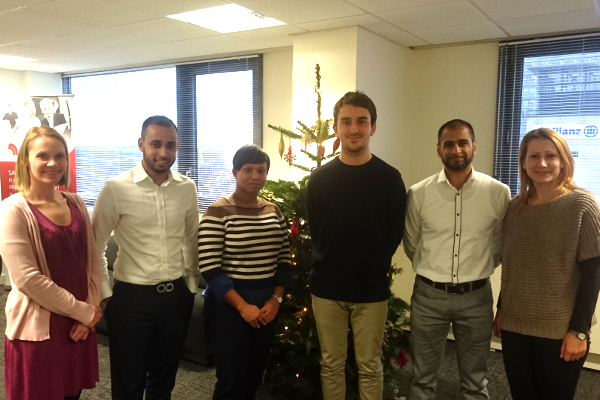 Anna – Support Consultant
Anna's role is to support customers with queries to do with their products and installations. She is currently providing customer support for SAP Business One and Accellos, but this remit will be extended to other products in the future.
Anna joins us after working for 10 years as an IT Manager, providing Microsoft networking support and SAP end-user support. Before that, she worked in banking in Poland, as a database administrator and developer.
She has a bachelor's engineer's degree from the University of Computer Science in Lodz, Poland.
Anna has been with the company for four months and is enjoying it immensely. She says, "It's really nice here. The work is so interesting and there's a lot going on. I particularly love the friendliness of the staff and the atmosphere in the company."
In her spare time, Anna is a keen scuba diver and enjoys playing with her one-year old daughter.
Shakir – Sales Support Consultant
Shakir joins Balloon One with experience in technical support with a server solutions company and with a provider of maritime security and tracking services. In these roles, he assisted customers in Europe, India and the United States.
He graduated from the University of Westminster in 2012 with a degree in Information Systems with Business Management.
His role at Balloon One is to provide support to the sales and marketing functions. He will provide information to prospective customers, ensuring they have all the data they need to make informed decisions about implementing new ERP and supply chain software.
Shakir was excited to join Balloon One, saying, "I loved the energy and friendliness that I felt when I first met everyone."
Shakir loves travelling and staying active by playing football and going to the gym. He also enjoys dining out, and his favourite cuisine is Lebanese.
Malisha – Operations Assistant
Malisha assists the Operations Manager with the day-to-day running of the business. Her role encompasses general admin, invoicing, banking, booking travel and event management, as well as supporting the management team.
She joins the company from an admin role with the NCT (National Childbirth Trust) and prior to that, she worked in admin in banking.
Explaining why she is pleased to have joined, she says, "Working at Balloon One, every day brings something different. It is so interesting and I am learning new things and different skills. I've already been given lots of training and everyone is friendly and nice to work with."
Malisha enjoys relaxing with family and friends and likes shopping, cooking, watching movies and travelling to sunny places.
Next time, we'll introduce you to Charlie and Dana.