On Tuesday 6th October 2015, NetSuite held its Cloud Tour Europe event at the Emirates Stadium in London.
A few of the Balloon staff were there, along with some of our clients and prospects, to learn more about disruptive business models and how NetSuite is helping businesses in today's cloud-centric world.
Chief Marketing Officer, Fred Studer, introduced the conference by saying that the pace of change has never been faster. That change is being driven by buyer expectation, but not all businesses can react. The organisations that cannot adapt their business models are the ones that will miss out, and if they are not responsive, they will not succeed.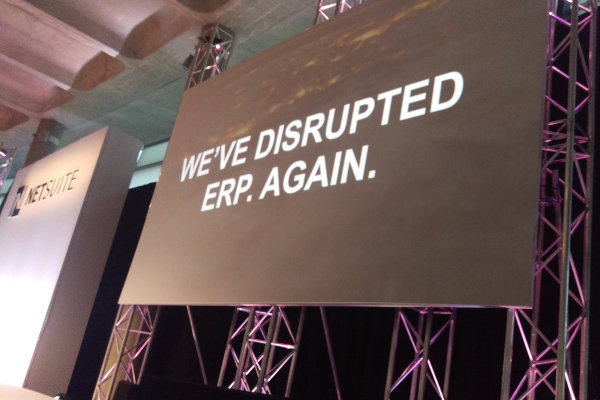 Zach Nelson, CEO, briefed us on the history of NetSuite, announced some upcoming innovations, and interviewed some customers, including Deliveroo and Pret-A-Manger.
NetSuite began modestly in 1998, but with the bold objective of building a system that could run an entire business, not just a single aspect of that business. It achieved that aim from the start, and now, in 2015, it is the largest cloud ERP provider. Zach Nelson also reported that NetSuite continues to see impressive growth rates – 46.6% in 2014 – while all the other major ERP providers only grew a very small amount, or actually saw negative growth.
One of his more notable slides showed the aggregated numbers of transactions carried out on NetSuite for January to August 2015:
16m SKUs
7m service projects
5m purchase orders
4m sales orders
100m invoices
He illustrated the major disruptions that have taken place in the world of computing, with delivery moving from mainframes, to client servers, then to the cloud. He said that there is nothing next, that cloud is the ultimate platform, but that what comes next is just about the way that we use the cloud.
And for that, the next disruption is all about omnichannel, with customers interacting with businesses via multiple channels, but being recognised in all of them. For example, buying something online, but then later going into a store and being recognised as that same customer.
Next up, Evan Goldberg, who is one of the NetSuite founders, and is the company's CTO, showed some of the features and benefits of the NetSuite platform, particularly with regard to omnichannel commerce. He emphasised that customers expect the systems they use in business to be like the systems that they use at home, and how NetSuite can deliver that same experience.
A highlight for the marketers in the audience was the speech by Brian Solis, an esteemed digital marketing analyst. He talked about the new physics of business, and how every business has a disruption event on its horizon, but that it's just a matter of timing as to when it will happen. He cautioned that old ways of doing business won't open new doors and advised executives to live their brand the way that customers do in order to appreciate what needs to change.
Everyone also received an advance copy of Brian Solis's new book, X, which is due to be published at the end of the month.
Finally, Fred Studer interviewed George Berkowski, author of How To Build A Billion Dollar App. Berkowski was responsible for building the mobile app for Hailo, the company that successfully disrupted the taxi cab market.
After the main conference, there was a chance to network with the other delegates and the presenters over drinks and canapés. Guests were treated to more freebies: T-shirts, drinks bottles and credit card holders. Plus there was a chance to meet Arsenal legend Perry Groves and get a signed football, and George Berkowski was signing free copies of his book.
All in all, NetSuite Cloud Tour Europe was a lavish and accomplished display from NetSuite and the feeling was that this is a company very much on the up.
If you want to know more about NetSuite and how it can help your business, you can call us on 020 8819 9071 or contact us using the website form.
---
Image copyright to © Claire Kerr, Kerrmunications