Last week, we talked through some of the key differences between SAP Business One and NetSuite, the UK's top two ERP systems for small- and mid-sized businesses.
Continuing on from that list, here are some more factors that differentiate the two systems.
Reporting, KPIs and Dashboards
Most ERP systems thrive on the consumption of business transactions, but few enable the users to digest this data and make sense of it. NetSuite and SAP Business One, on the other hand, are leaders in the area of reporting, KPIs and dashboards.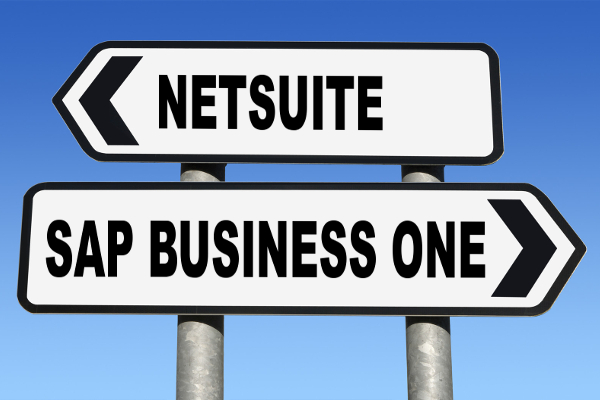 NetSuite provides endless date range comparisons of your data and allows users to turn these into graphical KPIs and dashboards with a few mouse clicks. SAP's HANA platform brings similar functionality to the SAP Business One user, with the added benefit of an Excel tool for interrogating data.
Google-like enterprise search is available in both systems, giving instant access to the entire database with just a few keywords.
Industry Focus
As a supply chain solutions provider, Balloon One's focus is on businesses that make, manage and move physical goods. In this respect, both systems are strong when it comes to the requirements of wholesale distributors and simple manufacturing operations. They both include basic forecasting and materials requirements planning and some warehouse management functionality.
However, for retailers, and particularly eCommerce retailers, the NetSuite solution does offer a broader solution set with the promise of a true omnichannel platform. This includes embedded eCommerce functionality and electronic point of sale. SAP has recently announced SAP Anywhere, which is expected to provide electronic point of sale and eCommerce capabilities linked to the SAP Business One back end.
Cost of Ownership
One key difference between the two solutions is in the mode of deployment. SAP Business One was developed as an application which was to be installed on a customer's own IT equipment. NetSuite on the other hand is exclusively cloud based and is run of behalf of the customer at a shared data centre. The licence model is also different, with SAP Business One traditionally sold as an upfront perpetual licence, while NetSuite is sold on an annual subscription basis where the annual fee includes the cost of hosting and managing the solution.
The subscription model shines a light on total cost of ownership. It highlights the hidden costs of running an ERP system, such as hardware, backup and availability, systems administration, security and upgrades. This is not to say that the NetSuite subscription model is cheaper, but it does offer a different perspective when considering the costs of a new ERP system. In recognition of this, SAP Business One is now offered on a subscription basis with many partners, including Balloon One, offering the solution in a hosted environment.
Technical Integration and Access to Data
The demands for integration stretch far beyond the walls of an organisation. With most businesses requiring electronic links to their customers and suppliers it is vital that today's ERP applications can deliver a simple interface to systems both inside and outside the company.
Both NetSuite and SAP Business One provide a set of web services for accessing the various objects held in the ERP database. However, the NetSuite SuiteTalk API is more mature, with widespread adoption throughout the NetSuite community of partners and customers.
SAP Business One on the other hand provides transparent access to the database. This gives greater flexibility for companies wishing to interrogate the data with their own reporting tools.
Conclusion
For a simple to use and intuitive ERP application with great integration and reporting, you can't go far wrong with SAP Business One. If you are looking for a cloud solution with customisable dashboards and excellent web capabilities, then NetSuite is hard to beat.
Ultimately, it's your choice, and at Balloon One, we're uniquely placed to compare and contrast the two with you. As the only UK supplier to provide both solutions, we can help you to appraise each system against your organisation's precise needs and to recommend the right route for your operation. Call us today on 020 8819 9071 or contact us for a free half day consultancy, at a time to suit.
---
Image purchased from canstockphoto.com