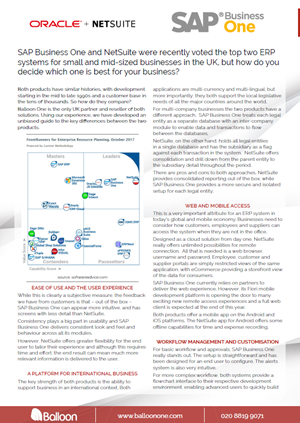 SAP Business One and Netsuite.
Download the whitepaper on SAP Business One and Netsuite.
SAP Business One and NetSuite were recently voted the top two ERP systems for small and mid-sized businesses in the UK, but how do you decide which one is best for your business? SAP vs NetSuite?
Download this brochure now to explore the capabilities of both ERP systems; how their different deployment structures (cloud vs on-premise) and differing functionality will affect the management of your business.
Comparisons include:
Ease of use and the user experience
A platform for international business
Web and mobile access
Workflow management and customisation
Reporting KPIs and dashboards
Industry Focus
Technical integration and access to data