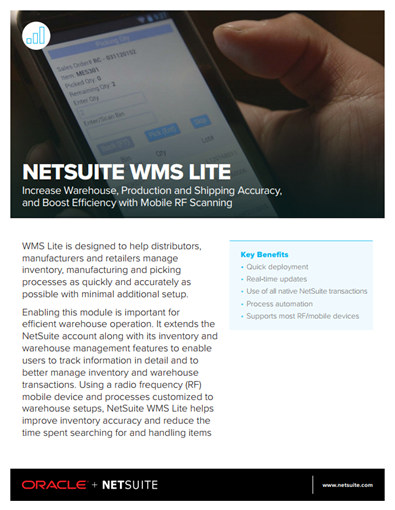 Netsuite WMS Lite Overview
Download the overview of Netsuite WMS lite.
WMS Lite is designed to help distributors, manufacturers and retailers manage inventory, manufacturing and picking processes as quickly and accurately as possible with minimal additional setup. Enabling this module is important for efficient warehouse operation. It extends the NetSuite account along with its inventory and warehouse management features to enable users to track information in detail and to better manage inventory and warehouse transactions. Using a radio frequency (RF) mobile device and processes customized to warehouse setups, NetSuite WMS Lite helps improve inventory accuracy and reduce the time spent searching for and handling items in the warehouse. It guides users through warehouse processes to perform important tasks, from receiving and storing items to picking and shipping them. As users process items in the warehouse, each transaction entered updates the NetSuite inventory records and reports in real-time.  
Quick deployment
Real-time updates
Use of all native NetSuite transactions
Process automation
Supports most RF/mobile devices
To find out how to increase warehouse, production and shipping accuracy, whilst boosting efficiency with mobile RF scanning download the full NetSuite WMS Lite Overview.