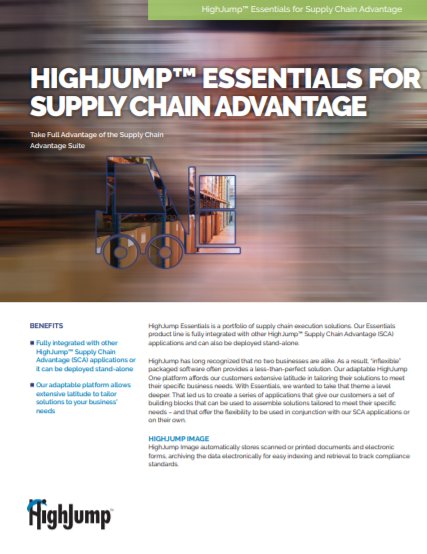 K.Motion Essentials for Supply Chain Advantage.
Download the whitepaper to get a supply chain advantage with K.Motion Essentials.
K.Motion (formally HighJump) Essentials is a portfolio of supply chain execution solutions. Our Essentials product line is fully integrated with other K.Motion™ Supply Chain Advantage (SCA) applications and can also be deployed stand-alone.   K.Motion has long recognized that no two businesses are alike. As a result, "inflexible" packaged software often provides a less-than-perfect solution. Our adaptable K.Motion One platform affords our customers extensive latitude in tailoring their solutions to meet their specific business needs. With Essentials, we wanted to take that theme a level deeper. That led us to create a series of applications that give our customers a set of building blocks that can be used to assemble solutions tailored to meet their specific needs – and that offer the flexibility to be used in conjunction with our SCA applications or on their own.
Fully integrated with other K.Motion™ Supply Chain Advantage (SCA) applications or it can be deployed stand-alone
Our adaptable platform allows extensive latitude to tailor solutions to your business' needs