Warehouse Logistics Consulting.
Balloon One's warehouse logistics consultants can provide expert knowledge to help you optimise your warehouse management systems. Learn more.
Warehouse Logistics consultants
Our warehouse logistics consultants can use their experience and expertise to transform your warehouse management systems and optimise stock control and materials handling processes. Using our knowledge and best practices alongside innovative technological solutions and warehouse management software (WMS), our warehouse consultants can help you to ensure peak efficiency in every stage of the supply chain.
Our Logistics Consulting Services.
End-to-end supply chain consultation for small and medium sized businesses.
Over the years, the Balloon One team helped a number of major warehousing businesses overhaul their operations. Laboratory equipment supplier Camlab has seen a drastic improvement following our implementation of an integrated enterprise resource management and warehouse management system.
Camlab has been working with Balloon One's team of experts since 2007, after implementing SAP Business One with Accellos One (now HighJump Warehouse Edge). The company's progress is just one example of our many successful projects — visit our case studies section to see how we've been able to improve efficiency across a wide range of different businesses.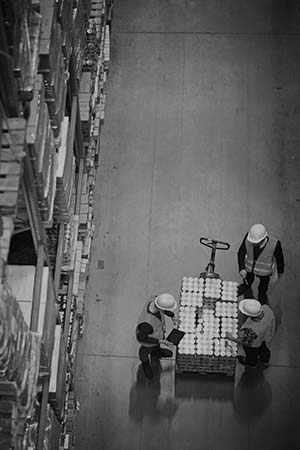 Learn how Balloon One could improve your Warehouse Processes
Warehousing encompasses a huge range of processes, all working in tandem: goods receiving, inspections, putaway, inventory management, picking shipping, stock taking, reverse logistics, and more. Given the complexity of operations, it can be difficult to identify weak or underperforming areas, and implementing strategies or new software can cause issues throughout the chain. That's where Balloon One's warehouse logistics consultants come in.
Our team will work with you to design and implement strategies that are tailored to the needs of your operation. Our experts use their knowledge and experience to deploy state-of-the-art IT solutions, Warehouse Core, Highjump Warehouse Edge, and Highjump Advantage, identifying which services will provide the most benefit for your business and helping you to roll them out.
It's this approach — combining knowledge, expertise, and the most innovative tech solution — that allows us to greatly improve efficiency in every aspect of the supply chain. Additionally, our logistics consultants can also oversee and implement the introduction of any hardware needed to support the strategy.